What Makes Ocala, Florida Horse Country?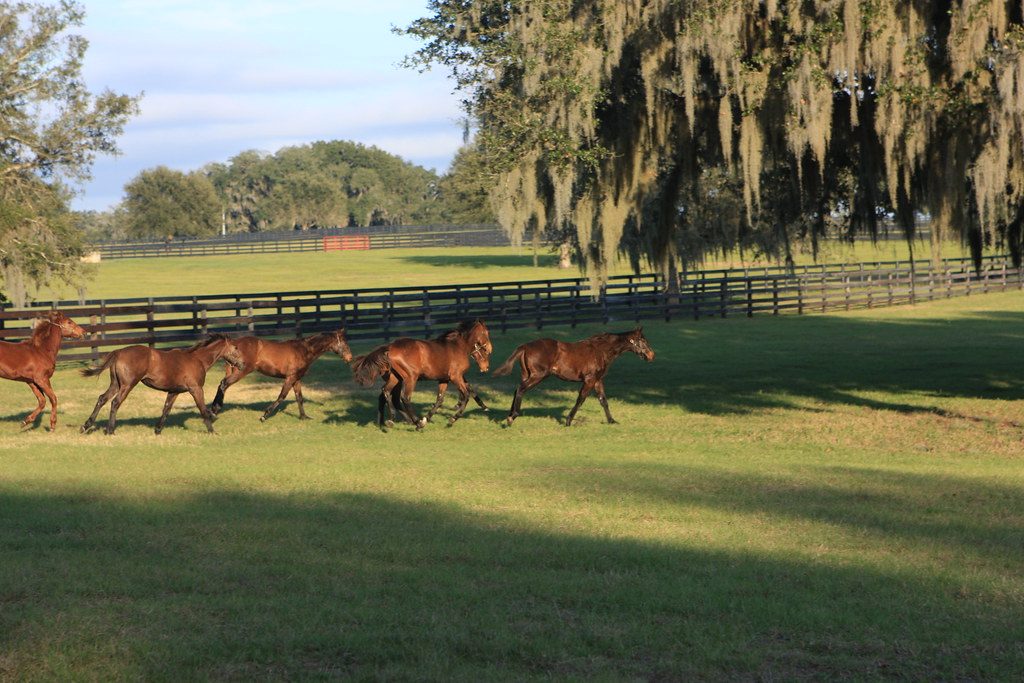 What Makes Ocala, Florida Horse Country?
A drive through Ocala/Marion County, Florida will take you past many rolling pastures lined with wooden rail fences with graceful horses grazing under stately oak trees. There are nearly 1,000 race horse farms in the county, big and small, and in 2007 it was officially named the "Horse Capital of the World™.
So what makes Ocala horse country? The answer dates back to World War Two when a man named Carl Rose started the area's first farm for Thoroughbred horses, Rosemere Farm. He built his farm in Marion County because of the high concentration of limestone in the soil, an ingredient that Kentucky horse breeders had long attributed to fast, healthy racehorses who graze on the nutrient rich grasses. One of Rosemere's first horses won a race at Miami Tropical Park, the first Thoroughbred raised in Florida to win a major race.
Other breeders began developing horse farms in the area, but it was a horse named Needles who was bred and trained at Bonnie Heath Farm that put Ocala on the map. In 1956, he became the first Florida-bred horse to win the Kentucky Derby. By 1958 a map of "Marion County Race Horse Farms" listed 28 farms. There was a horse farm boom underway.
Today Ocala/Marion County is one of only a handful of Thoroughbred centers in the world. It's produced many champion race horses over the years — another local horse named Carry Back won the Kentucky Derby in 1961, a horse named Affirmed won the American Triple Crown in 1978, American Pharoah was Triple Crown Winner of 2015, and Nyquist, winner of the 2016 Kentucky Derby was also straight out of Marion County, to name a few. Ocala/Marion County is home to more horses than anywhere else in the countryand breeders, jockeys and other equine professionals flock to the area for its mild climate and extended racing and riding season.
According to the Ocala/Marion County Chamber & Economic Partnership's chronicle of the area's equine history, a 2015 Ocala/Marion County economic impact study showed that equines contribute $2.6 billion a year to the local economy and make up about 18% of the county's total GDP. The thriving horse industry coupled with a growing population, affordability and quality of life have led several national publications including Money magazine and Where to Retire magazine to name Ocala as one of the top places to live and retire.
Horse-loving tourists and retirees flock to the area to enjoy guided tours of Ocala's working farms, year round events and competitions at The Florida Horse Park, one of the largest covered arenas in the Southeast, riding their horses on the connecting trails of the Florida Greenway, and simply taking in the peaceful landscape. A drive down state road 40 between Dunnellon and Ocala, west of Interstate 75, will take you right through horse country with beautiful pastures and grazing horses on either side.
If you dream of owning your own horse farm in Ocala, we have many properties zoned for horses and other livestock that would let you enjoy all that Marion County has to offer for horse lovers.
Call the LandBaron today to get matched with a piece of land for you and your horses: (888)-757-5771 or email at mylandbaron@gmail.com